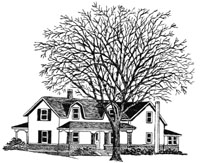 1888 obituary for Michael Boyle. This clipping was found in a scrapbook, and it is not known in which publication it originally appeared.

Death of Michael Boyle
Michael O. Boyle, an old and highly respected citizen, died at his home in Garryowen, Feb. 25, 1888. He was a native of the county Clare, Ireland. He immigrated to America in 1847, came to Dubuque in 1852, and remained six years. In 1858 he removed to Garryowen, Jackson county, where he took up a large farm on which he resided up to the time of his death. He was born in 1820, and was therefore in his sixty-eighth year. He was an honest, upright and industrious citizen, a kind husband and a loving father. He leaves a wife and ten children, all of whom were gathered around his bedside at the time of his death. His death was caused by asthma, contracted three years ago. All that medical skill and loving hands could do was of no avail. He was a firm and devout Catholic, and was fortified by the last sacraments of his church. Solemn high mass was celebrated for the deceased by Rev. J. Kelly, assisted by Revs. O'Farrell and Roche. Rev. L. Roche delivered an eloquent funeral sermon touching on the many virtues of the deceased. In his last hours he was cheerful and happy and resigned to his fate. His funeral took place on Monday and was one of the largest that was ever seen in that neighborhood. His grief-stricken family have the sympathy of the community in their bereavement. He lived a virtuous life and now has gone to obtain his eternal reward. May his soul rest in peace.