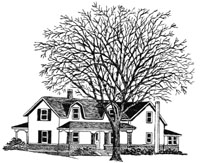 October 1890 obituary for Ellen Boyle, from The Cascade Pioneer.

Death of Mrs. Ellen O'Boyle
Mrs. Ellen O'Boyle died at the family residence in Garry Owen, on Saturday, Oct. 11th, 1890. She was born in county Clare, Ireland, in 1836. She migrated to America and came to Dubuqie in 1852. In 1856 she was married to the late Michael O'Boyle at Sinsinawa Mound. They resided in Dubuque for two years, and in 1858 with her husband they removed to Garry Owen where she resided up to the time of her death. Her death was caused by a violent attack of erysipelas. She was a firm and devout Catholic and died fortified by the last sacrament. She was a good neighbor, a true wife and a loving mother, and her departure will be sadly missed in her large circle of acquaintances. She leaves a family of ten children to mourn her loss. Of the family are Mike, John, James, Frank, Bridget and Rose reside at home; Austin R. of Chicago; Thos. of Anaconda, Montana; Nellie of Manilla and Mary of Dubuque. Rev. Convery of Temple Hill delivered an eloquent sermon on the many virtues of the deceased. The funeral occurred on Tuesday and was largely attended. Solemn high mass was celebrated for the deceased, Rev. James Kelly officiating. The grief stricken family have the sympathy of the community in their bereavement.
A dear one from us has gone,
A voice we loved is stilled,
A place is vacant in our home
That never can be filled.